---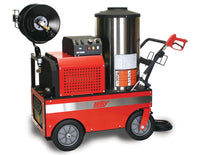 ---
The 800 Series - rugged design, easy maneuverability and massive
cleaning power. Comparable to the cleaning power of Hotsy's heavyduty
stationary units, the big and beefy 800 Series is surprisingly easy
to maneuver into place, allowing you to tackle the heaviest of industrial
cleaning jobs. The 28" wide wheel base helps with stability, yet is narrow
enough to fit easily through doorways. Components are protected by an
easy-to-remove cover allowing servicing access. All 800 series hot water
pressure washers are backed by a 7-year limited warranty on the Hotsy
Triplex pump. A pressure relief valve, upstream detergent injector and
stainless steel coil wrap are standard features on all 800 Series models,
which are ETL certified. Equipped with a 50' hose.
Oil Fired
Big & Beefy, Yet Easy to Maneuver
2000 - 3000 PSI
5-10 HP
230V, 208V, 460V, & 575V
Belt-Drive Hotsy® Triplex Pump
Stainless Steel Coil Cover Standard
---