---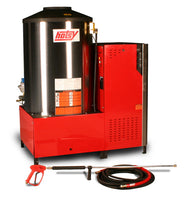 ---
The 5700 and 5800 Series produces a powerful punch and is ideal for wash bay
installations. With its 20 HP motor driving the incomparable Hotsy Triplex Pump
with NESTechnology with U-Seals and a vertical banded belt, the 5700 and 5800
Series delivers cleaning power up to 9.5 GPM and 3000 PSI. Has a sleek cabinet
with removeable panels for easy access for maintenance. A removeable control
panel provides access to the adjustable temperature control and the Smart Relay for
secured control of operating positions. Remote ready for wash bay installations. All
models are stationary and certified to the rigid UL-1776 safety standards. Equipped
with a 50' hose.
Natural Gas, Oil or Optional LP-Fired
Stationary Units Last for Years
2500 - 3000 PSI
20 HP Electric Motor
230V, 208V, 460V, & 575V
Belt-Drive Hotsy® Triplex Pump
Smart Relay Control provides control over run time, auto start / stop and shutdown functionality.  
---