---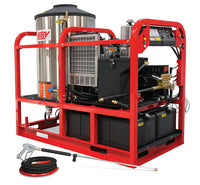 ---
The Super Skid HSS Series is by far, the largest, most powerful of Hotsy's hot water pressure washers. The Super Duty HSDS models feature a Hawk pump with lower RPM for long lasting durability; there's literally nothing else on the market as robust, big & powerful. HSS models come standard with the reliable Hotsy triplex belt-driven high-pressure pump. Triple banded belt for more efficient power transmission. Models are powered by a 16 & 24 HP Kubota engines with electric start and all feature a 3/4-inch foil-backed insulated Schedule 80 heating coil with stainless steel skin and 5-year warranty. Two fuel tanks for longer operation, a high-efficiency Wayne burner and optional dual gun kit allows two users at one time.
Diesel Powered / Fired
5 to 9 GPM
3000 to 3500 PSI (Operating Not Max)
16 to 24 HP Small Diesel Engine
12 Volt DC Ignition System
Belt-Drive Hotsy® Triplex Pump
Many options to make industrial cleaning faster and easier!
---